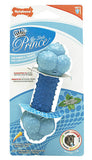 Every little 'prince' dog deserves a Prince Double Action dog chew toy. The blue, minty toy is made to his liking by having different textures and being super durable.
Designed so dogs can have the benefit of a toy that is both soft for carrying, yet durable for chewing. Small bristle-like projections help keep teeth clean and massage gums during chewing. A soft rubber, minty fresh center keeps breath fresh, and durable ends satisfy even the most determined chewers.
The Prince Double Action is proudly made in the USA.