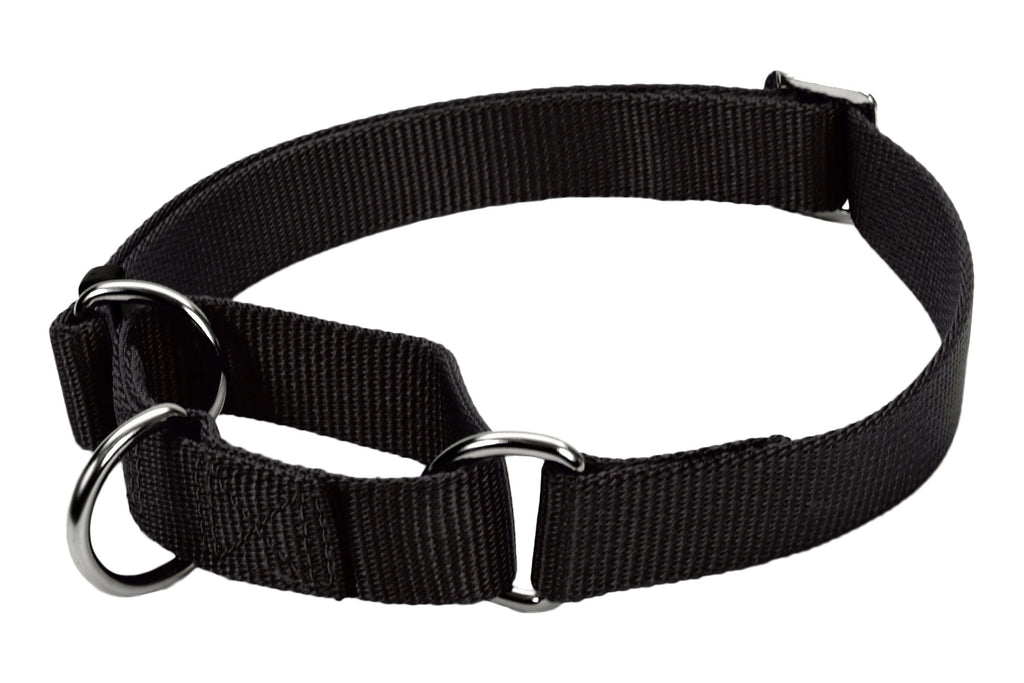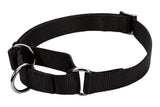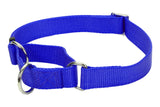 Hey, you don't want to lose your collar, do you? The NO! Slip Martingale collar is perfect for dogs that have larger necks than their heads or dog that are houdini. Basically, if a dog pulls the collar tightens, but not too tight. To put the collar on you slip it over you pup's head. Easy! 
The NO! Slip Martingale Collar is proudly made in the USA.
Size Guide
To measure for your dog, use a cloth tape measure or a piece of string and measure snugly, but not too tight, around your dog's neck. Then add 1 to 2 inches to this measurement; this is your dog's neck size. Use this measurement to select the proper collar size for your dog.
For example, if your dog's neck measures 16 inches, then your dog's neck size is between 17 to 18 inches and you should get a collar that has a range that fits the neck size, such as a collar that adjusts from 12 to 20 inches.
Remember to check the collar's fit. It should be snug with enough room to slide two fingers between your dog's neck and collar.
Not sure what size? We can help.
Customer Reviews
08/03/2023
Kevin S.

United States
The Best Collar By Far!
We love these collars! The Coastal Pet® NO! Slip Martingale Collars are the only collars we use. We have three 100-pound English Goldens and have been using these collars exclusively for over 11 years now. Easy-on/Easy-off! Slips on right over the dog's head with no buckles - but DOESN'T SLIP OFF! Indestructible Dog has the BEST pricing available for these! Thanks!
Best Collar for escape artists
I have a German Shepard/Akita mix who is a master escape artist. He found a way to slip out of every collar we've ever had including harnesses. Yeah I'm talking the anti-pull harness that pinches under the legs to keep them from pulling. He slipped those. But this collar is a godsend. He has yet to slip out of this collar and can stay on his lead while we're away without worrying he escaped. I will definitely be purchasing more when his wears out.